Post by MommaBearLas on Dec 1, 2014 15:01:07 GMT -5
Welcome To the
Zumwhere
Guide!
To enter Zumwhere, You must enter a zumwhere code at the code shop:
Each Zumwhere code gives you 500Kc and you unlock all of zumwhere
In the top left corner as you face your screen, it tells you how many zums you have found and under that how many kinz klips you have loaded.
Info :Visit Zums
In this area, you can visit and play with your Zums to earn 'zummies', so that you can use your zummies to purchase items from the Z-Shop.
Zum Sightings

In this area, you can 'find' Zums and once you collect all of one type of Zums, you will win a mystery prize for finding them all.
How To Play :
You can chose to search in any of the 3 areas. Click on the dots flying around.
You may click on a dot that is not a Zum and get a food prize.
There are 6 kinds: the common ones are the Zum Toffee, Sour Zum, and Gummy Zum.
Uncommon is the Zum Cupcake and rares are the Zum Chocolate and the Zum Soda.
You may feed these to your pets for a good energy boost and a good decrease in hunger.
If you get a zum-This may pop up.
If you don't catch the zum directly and you will be issued a challenge to collect Zummies :
Each game has 3 levels and a time limit.
Level 1 has 4 tiles.Level 2 has 9 tiles. Level3 has 16 tiles.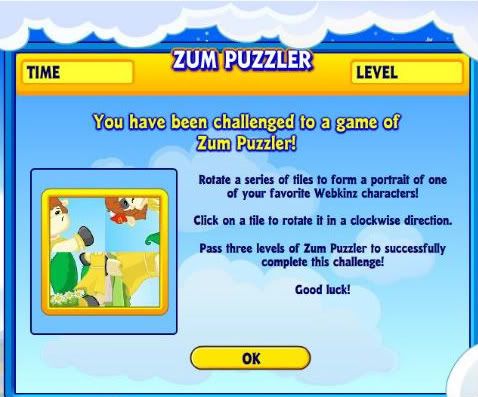 Some of the clouds will have negative numbers. Just remember the negatives are opposite positives. In other words -98 is smaller than -6.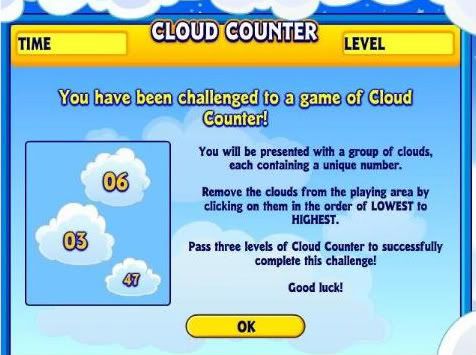 Make yourself familiar with wshop items to win this one.
Pay close attention. It says drag to the square but clicking on the items in the correct order works better for me.
Just pay attention, look for the new object when they change and click on it.
Catalog Prizes :
These are the prizes you can get collecting Zummies and buying them from the catalog- These items can be traded/kinzposted.
New Zumwhere prizes were added on September 29, 2010
FIELD GUIDE







These are the prizes for finding the whole group of Zums on each page.They are only one to an account and cannot be traded/kinzposted.
Bratty Zums :
With this one completed, you get the Ancient Zum Guide (no pic)
Giggly Zums
This is the one you get the Zum Costume with
Lazy Zums :
When you complete the lazy zums, you get a Zum Crossing sign!
Peeking Zums :
When you complete the peeking zums, you get the Zum Trophy!
Tricky Zums :
When you complete this one, you get the Zum Topiary
Zippy Zums:
When you complete this one, you get the Field Guide Pedestal
The Grand prize is the Zum Sanctuary.
ZUM CATALOG PRIZES
Z-SHOP PRIZES:
Thanks for looking at the guide!

Many, many thanks to
Bluemorpho
, for providing so much help with photos and the guide!
Its so very appreciated!!
Anybody who has any tips, please post them here. Arbor has also posted an excellent guide to zumbuddies.