Post by MommaBearLas on Dec 1, 2014 15:01:57 GMT -5
Alyssa's Star Challenge Guide
*please note this post and information is a work in progress*
Stars
Here are the items you can find in the star search. The cookies show up sometimes when you click on a star.
You have a chance at obtaining a solar outfit piece when you click on a shooting star that gives you an orb.
The throne is the grand prize for collecting all of the stars. The Star Collector's Carousel is in the W-shop.
It can go in your room so you can look at your star collection from there.
There are few hints on how to find all the stars other than by chance.
Supposedly there are certain stars that are more likely to have the ones you need, so I will list them for you.
The trick will be recognizing which formation of stars makes which character when clicked on.
It helps to keep track of your stars with the help of a checklist
Sun Sparks
* Web Wonder
* Zinglow
* Spectaculight
* Enchantrite
* Pyro Pearl
* Lightening Lantern
* Illustrolite
Glow Flakes
* Nocturnite
* Magmimite
* Deelight
* Divinadime
* Moon Bloom
* Flouraflite
* Frost Flake
Astro Emblems
* Marrowmile
* Chlorocosmo
* Skyprint
* Nightnote
* Blushing Bulb
* Twilight Twinkle
* Lunamite
Here are the names and pics of the 19 different Galaxies:
Arte
Charm Fairy Forest
Clubhouse
Crown of Wonder
Dex's Spaceship
Dr. Quack
Gazpacho
Goober
Kinzcash Coin
Kinzville Academy
Knight of the Round
Loader Lounger
Magic W
Ms. Birdy
Pet of the Month
Plumpy
Quizzy
Wishing Well
Zingoz
**Credit goes to Itmamawubit for the following information**
Wacky Zingoz and Wishing Well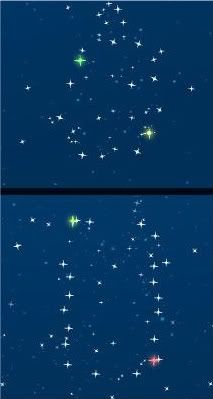 POTM Medal and Quizzy
Knight of the Round Armor and Loader Lounger Chair
Magic W And Mrs Birdy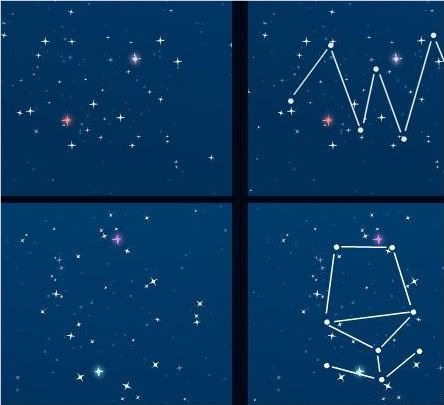 KC Coin And Kinzville Academy Logo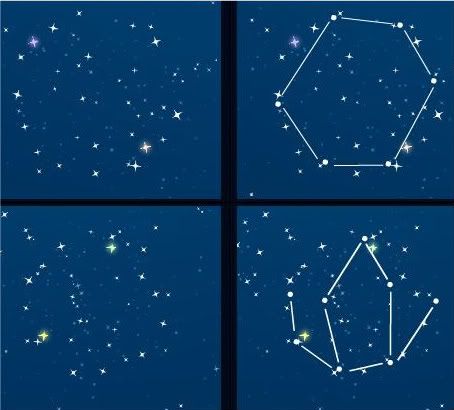 Dr Quack And Goober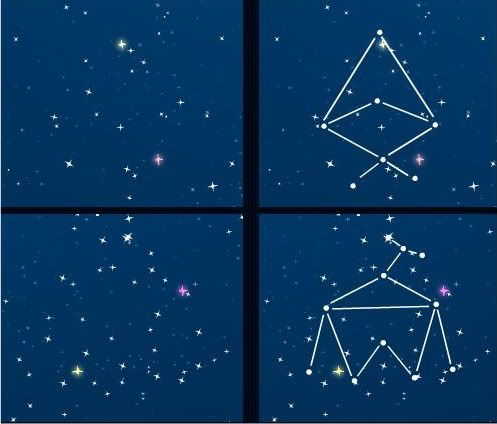 Crown of Wonder and Dex Dangerous Space Ship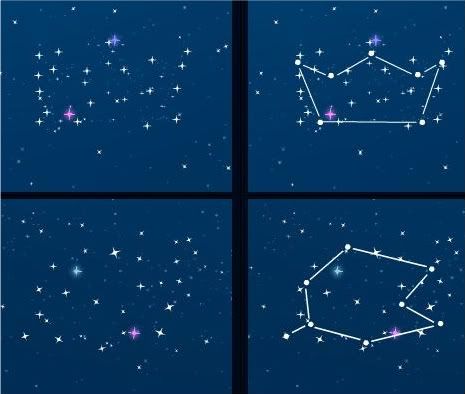 Alyssa and Arte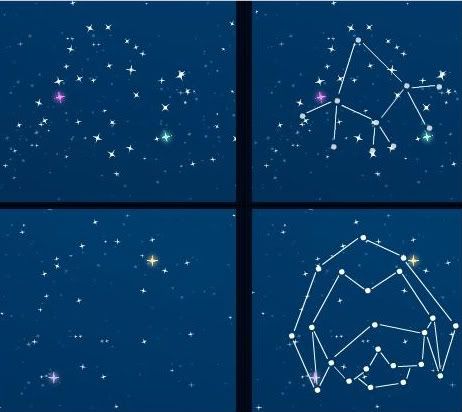 Chef Gazpacho and ClubhouseTree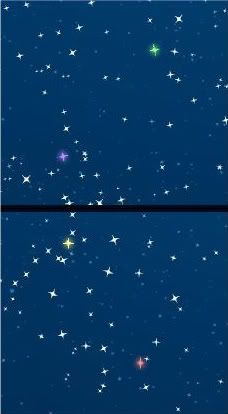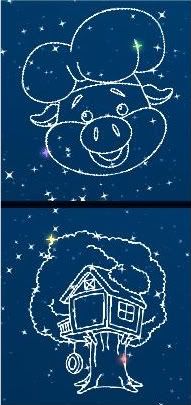 Plumpy
Supposedly you can find all the stars by the following formula(look in this order)
Astro stars: Wacky, Wishing Well,POTM Ribbon
Glow stars: Wishing Well, POTM Ribbon, Plumpy
Sun Sparks: Wacky, Wishing Well, Plumpy
I find it very difficult to recognize the formations, even with the pictures available to me.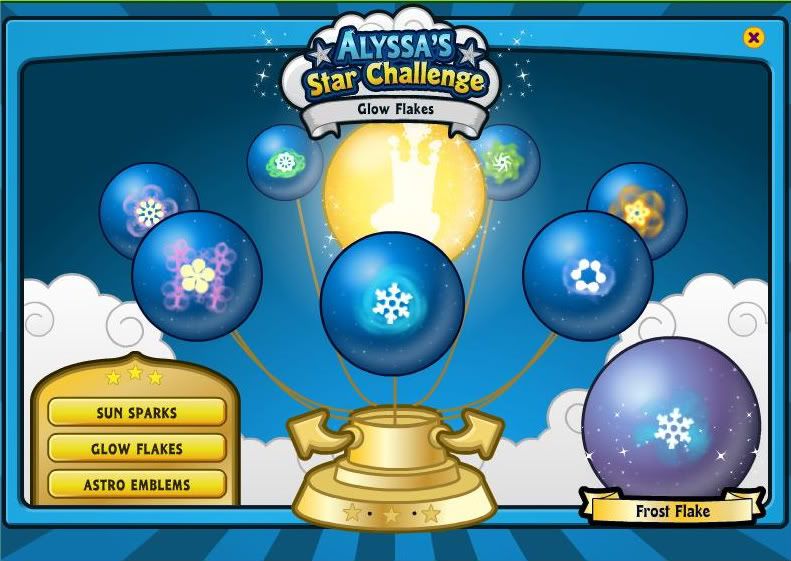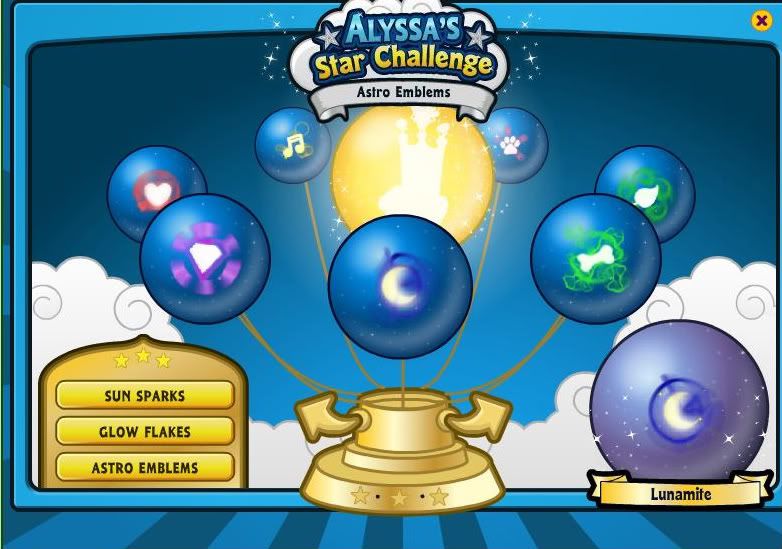 As you can see, I have one more star to find for my Throne. I have been working on this for 10 months. It is eluding me.
As I understand it, it works like getting the crown of wonder. One of each star to get the throne and any extra stars you are saving apply toward the next throne.
You do not have to start completely over when you win the throne. I keep 4 of each star and sell any of them I get over that.
When you do get all your stars, Alyssa will try to buy the last one from you and you have to tell her no.
Then she will tell you to click on the image of the chair and will put it on your dock.
Once in awhile, you will see a shooting star or comet. It will be a white sparkling ball floating across the screen from the left to the right.
Click on it before it goes by! If it is a Shooting Star, you will receive nothing and it will count as a miss.
It will also spell out the words "Shooting Star." If it is a comet, you will win a solar piece suit.
Originally, ONE piece of this suit was given away if you got a comet:
However, you can no longer earn that suit when clicking on a comet. Now, you earn parts of the Golden Solar Suit.
Anyone who has any helpful tips, please share with us.